Chess in Art has been a bit thin on the ground recently. However, a few things of interest have popped up that encourage several visits to our back-catalogue (
here
and
here
) - which we'll do over the next few weeks.
First up, viewed more in hope than expectation, was
John Ruskin at Two Temple Place
(it's down by the Embankment; on until 22 April). The venue is a late-Victorian neo-Gothic no-expense-spared extravaganza built in the 1890s for William Waldorf Astor, supposedly then the 'richest man in the world'.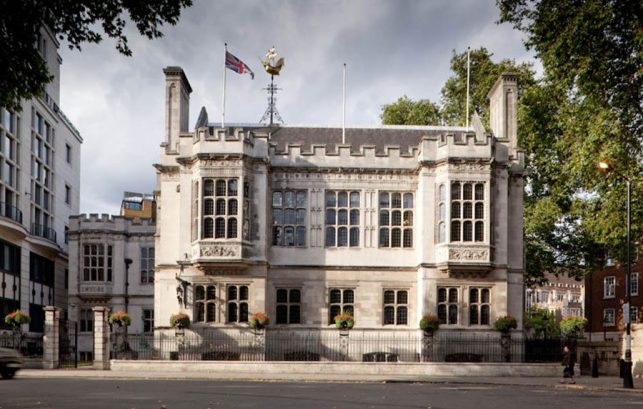 It was the hub of his business empire, but is now the home of an entrepreneurial networking trust, which once a year puts on a scholarly exhibition (with treasures brought in from the provinces) on some aspect of British 19th/20th century art. The shows are always worth a visit - also for the opportunity to gawp again at the building (much more spectacular inside than out).
This year, on the
200th anniversary of his birth
, the focus is on the Professor (1819 - 1900), and the exhibition offers a chance to admire the intensity of his visual and intellectual interrogation of things natural and architectural. In his time he was an intellectual superstar, and could also paint a mean (and meticulous) picture - many are on show - including this hyper-realist study used to promote the exhibition. Its baroque curlicues seem to congeal into fuzzy abstraction.
Study of Moss, Fern and Wood Sorrel, upon a Rocky River Bank (1875-79).
Collection of Guild of St George/Museums Sheffield.
And the same could be said for his prose. Ruskin wrote prodigiously, with daunting and serpentine prolixity (I've tried him several times, and given up). His acclaimed anti-capitalist critique
Unto This Last
(1860) is also, and rather counter-productively, heavy-going. However, in a practical and more accessible vein he founded, in 1875, a museum atop a hill on the edge of Sheffield aiming to expand the cultural horizons of the steel-workers - whilst clearing their lungs.
A
blog-past
stumbled on John Ruskin, and his chess. He was peripherally of this parish, but never, it seems, a member of any local (or city) chess club - though he reported a visit, in 1874, to the Crystal Palace, by coach, to play Charles Cooper's 'Automaton'. John Brown, of our local
Streatham Society
, recently acquired a couple of period photos of it, which he has kindly shared with us.
Mr Hooper's Automaton (aka Ajeeb) at the Crystal Palace in the 1871.
Charles Hooper (under the fez), autographed the photos on the reverse.
Pictures courtesy of John Brown and the Streatham Society.
Ruskin's
correspondence
says that he played three games against it: no doubt the Prof would have said so had he been victorious. From his Herne Hill redoubt Ruskin wrote to Henry Bird (the English chess master) with such frequency that Bird was moved to complain. It is said that Ruskin's preference was for the 'grand-style' of play à la Morphy and Bird himself - i.e. what he took to be the application of 'genius and imagination'; and that the Professor disdained prolonged 'calculating and analysing'. He was a Vice-President of the British Chess Association and, with unabashed immodesty, offered his compendious tomes as tournament prizes.
Not that you get any of his chess in the exhibition, nor (should you be interested) anything of his marriage. Mrs Ruskin (better known as
Effie Gray
) succeeded in getting it annulled in 1854 on the grounds that after six years her husband had not discharged his obligations, something John Everett Millais wasted no time putting right. A year later, and decently joined in matrimony, he and Effie had the first of their eight children.
Millais' portrait of Ruskin (1853-4).
It was while painting this commission that Millais and Effie Gray
(holed-up in Scotland with JR) got entangled.